Welcome Summer Creek Apartment Homes in LaVergne TN


Steeped in tradition and enveloped by the warmth of country living, Summer Creek Apartments was built with the privacy of an old English estate in mind. Every corner of the meticulously planned interiors radiates an extraordinary sense of style. This community has come to LaVergne, offering those who demand quality and good taste in their residence, a place to call home. The surroundings are sophisticated. The features are unique. And the exceptional blend of intimacy and convenience makes Summer Creek Apartments one of the most desired addresses in the city. The exteriors proudly feature either patio space or semi-enclosed balconies, decorated with elegant rod iron work. Charming door knockers greet guests outside the front doors. The fitness center overlooks an enticing swimming pool by the clubhouse. Two unusual amenities you are sure not to find anywhere else are the furnished heavy-load washer and dryer and the outdoor ceiling fans on the balconies. Make Summer Creek Apartments your home today.

Two Bedroom One Bath

This versatile floor plan has approxiamately 900 square feet and can be utilized in a few different ways. It could be a one bedroom / one bath using the extra room as a den, study or guest room. It could also be used as a two bedroom / one bath. The bathroom opens up to the master bedroom and the hallway.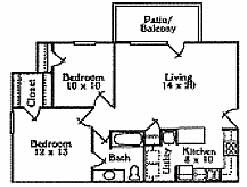 Two Bedroom Two Bath

The two bedroom / two bath floor plan owns appoximately 1035 square feet and is ideal for informal elegance. The two seperate bedrooms allow even more space to spread out and get comfortable.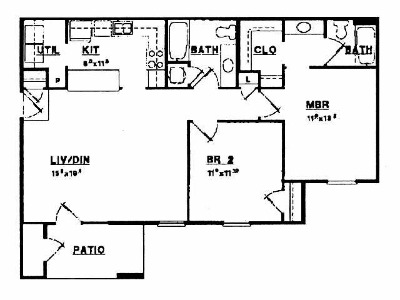 Three Bedroom Two Bath

The most spacious living enviroment is found in the three bedroom / two bath arrangement. The layout is designed specifically to allow for privacy in the master suite, while keeping others safe and secure nearby. This expansive floor plan covers approximately 1240 square feet.